Saint Mary and Saint Modwen's Catholic Church
Saint Mary and Saint Modwen Roman Catholic Church, Burton was founded in 1851, with the present town centre Church built in 1879. The present parish and Church continue the Catholic presence in the town since the 7th Century.
The church is named after Mary, the Mother of God, and the town's patron, St Modwen. Her life is depicted in the spectacular East Window in the Church.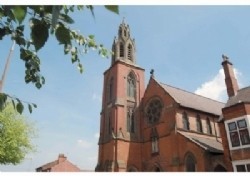 For Mass times and further information please visit:
If you want to contact the parish office, please email: stmary-mod.burton-on-trent@rcaob.org.uk
Facebook: Ss Mary and Modwen RC Church